The agony of loss
Life always feels like something is missing and you start looking for what you lost, maybe it's your work badge at work, the car keys that take you around, maybe you're the one who lost them, etc. Whatever is missing, it's a real bummer that these things often seem to get lost when you need them, considering how important they are.
Badge reels help us to keep the things we use every day together so that we can easily find and use them quickly when we need them, but the reality is not always as good as it could be, with problems like a broken wire rope and cracked shells always making them lost, so it is so important to have a good badge reel for our lives.
How to judge a good badge reel?
A strong and environmentally friendly shell is essential, it can meet the most basic needs and for the protection of the environment and health; short and fragile nylon rope can not withstand the slightest heavy pull, need steel wire rope to ensure that strong does not break; diversified use of the scene is an important feature of the badge reel, gather scattered daily important small items, easily cope with a variety of life scenes.
MNGARISTA丨The relaunch of the badge reel
A shield is often a symbol of resistance, protection, protection, to bring people a sense of security and hope, so we start anew, adding a sense of security, solid thinking as the design concept of the badge reel, shield image combined with the appearance of the line design; (PS: picture - design when drawing the line drawing pictures)
ABS757 material with strong, strong impact resistance, environmental protection is not harmful to health is an important reason for our choice, through the EU CE certification and ROHS hazardous substances detection: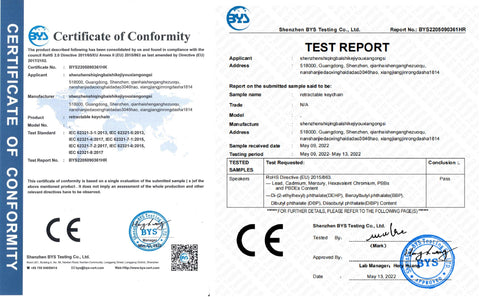 With nylon coated wire rope, more wear-resistant, up to 31.5 inches in length, withstand 220 pounds of ultimate tension and 8 ounces of rebound weight; (PS: picture - show the length of wire rope, withstand ultimate tension, rebound weight)
Redesign the structure of the zinc head combined with the brass sleeve, completely solve the problem of stretch rope breakage; (PS: picture - the overall structure of zinc head + brass sleeve)
Keyring and badge buckle to cope with the carrying of important small items of life and work; (PS: picture - badge reel to join keys, car keys, work badges, and other important daily items)